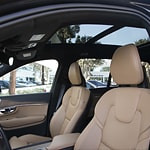 When nothing but luxury, comfort, and performance will do, you may want to consider the Volvo XC90. Here at Tasca Volvo Cars in Cranston, RI, we are proud to feature this popular luxury SUV in our showroom. Our customers have really come to appreciate the many vehicle-enhancing performance features, and we think you will too. Stop by for a test drive to experience the Volvo XC90 for yourself.
One very popular performance enhancement is the Start/Stop Technology feature. This feature is designed to help you save on gas while helping to reduce emissions. Whenever you come to a stop sign or red light, the engine will automatically turn off. One touch of the gas pedal and the Volvo XC90 will be ready to go again.
With the adjustable Drive Mode Settings feature, you'll be able to choose from drive settings that include Comfort, Eco, Dynamic, and Off-Road. There's one to match just about any condition or situation.