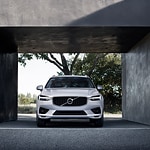 It is easy for car buyers to believe that luxury and performance are two separate qualities to expect in an SUV. They think that if they get performance with their SUV that they must forgo luxury. Likewise, they believe that luxury cannot be synonymous with performance in this type of vehicle.
However, Volvo combined both luxury and high performance in its new Volvo XC60 R-Design. Find out what makes this popular luxury performance SUV the choice of many car buyers today.
One of the first things that you will notice in your new XC60 R-Design from Volvo is its bright and vibrant LED center console LED display. This display serves as the focal point for controlling your car's smart features.
It is where you access mobile apps and features after you pair your smartphone to it. It also lets you find the local weather, control the volume for the stereo, and find navigation features.